Movin' On Walking
& Yoga4Life
Movin' On Walking Group:
Thursday, October 6, 4:30-5:30pm
Wednesday, October 19, 9:00-10:00am
Yoga4Life:
Monday, Oct. 10, 10:00-11:00am
Monday, Oct. 24, 10:00-11:00am
Register below to reserve your slot.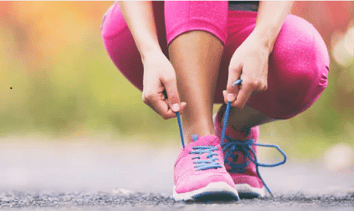 Grab a friend and lace up your sneakers for a 2-3 mile walk led by Sentara Martha Jefferson's exercise specialist Tracey Hill. Participants should be able to walk 2 miles within 1 hour (30-min. mile). Dogs welcome if on-leash and friendly.  Maximum capacity: 10 participants.
Thursday, October 6, 4:30-5:30pm. Dairy Market to Downtown Mall and back. 

Wednesday, October 19, 9:00–10:00am. Dairy Market to McGuffy Park and back.
Yoga4Life
Gentle Stretches and Relaxation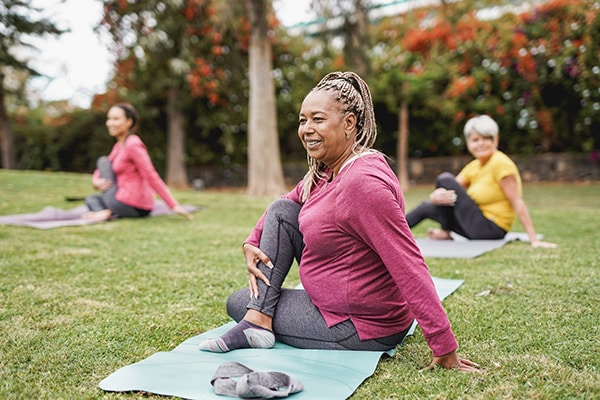 Start your day with an hour of gentle stretches and relaxation. We'll be standing, seated, and lying down, with many adaptations, including chairs. You'll learn holistic tools to help with anxiety and fatigue, while tapping into your own strength, centeredness, and self-esteem.  The class is appropriate for all skill levels, including those currently dealing with illness. If possible, please bring a mat or towel, plus a small pillow or blanket. A few extra mats and supports will be available as needed.
Alexandra McGee, a Yoga Cville instructor, will lead the class. She has been a yoga teacher since 1994 and has experience teaching cancer survivors. She also serves as a chaplain at Sentara Martha Jefferson Hospital.
Thanks to our friends at Yoga Cville, free class passes will be available to attendees. 
Consent and Liability Release:
Please review and select "yes" when completing registration form.
I hereby acknowledge my desire to participate in Sentara Martha Jefferson Hospital's Movin' On Cancer Exercise Program or Yoga4Life. I understand this includes a supervised group exercise program, educational classes and other health-related activities, including outdoor exercise and classes held remotely on Zoom, designed to improve my cardiovascular and muscular fitness and endurance, reduce fatigue, and help reduce my risk for cancer recurrence and new diagnoses. My exercise prescription will be based upon a medical history evaluation, which includes, but is not limited to, physician's recommendation, exercise stress test as deemed appropriate, and physical examination for range of motion and other muscular/joint limitations. My physical activities are designed to place a gradually increasing workload on the cardiovascular system and thereby improve its function. I have received clear instructions regarding the amount and kind of exercise, and I agree to comply with these instructions. I understand I will be monitored only by a Rate of Perceived Exertion (RPE) scale within a group setting.
Furthermore, I understand that there exists potential risk for abnormal changes occurring during any kind of exercise program, which include but are not limited to, episodes of transient lightheadedness, fatigue, abnormal heart rate or blood pressure responses, fainting, muscle cramping or injury, lymphedema, chest discomfort, shortness of breath and in RARE instances heart attack or cardiac arrest. I understand that all necessary precautions and interventions will be implemented to reduce this risk but I consent to the administration of first aid or other medical treatment deemed necessary by the Health and Wellness staff should untoward events occur*. I agree to (1) report any changes in my medications, (2) report any unusual signs or symptoms experienced before, during or after exercise, (3) not exercise within two hours after eating or using tobacco products, (4) not leave the exercise facility until I have adequately cooled down and my heart rate has returned to its pre-exercise rate.
I understand the information obtained during my participation in the Movin' On Program and Yoga4Life will be treated as privileged and confidential information, not to be released to anyone other than my physician and the Health and Wellness Program. I hereby release, indemnify and hold harmless Sentara Martha Jefferson Hospital and its employees from any liability, claims, expenses and demands with respect to any injury, damage or loss which I may incur as a result of or relating to participation in this program.
I have read the above and I understand it.