Share Your Love
Honor the Fighters in Your Life
Make a gift in honor or memory of a loved one's fight against breast cancer, and your support will directly impact the lives of patients and families at Sentara Martha Jefferson Hospital. We're all in this together. Thank you for caring for our community.
Let's Turn the Dairy Market Pink
In the United States, one-half of all men and one-thi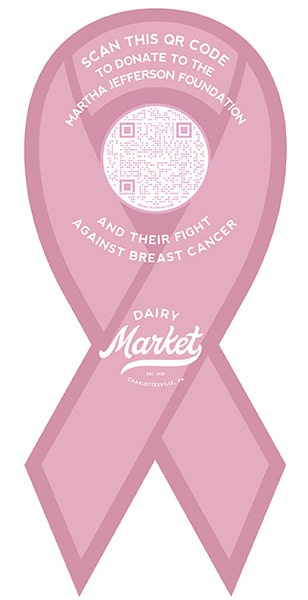 rd of all women will receive a cancer diagnosis in their lifetime.  Breast cancer is the most commonly diagnosed form of cancer in women, and it will strike one in eight women.
We all know family and friends touched by breast cancer. In their honor, we invite you to help us fight back by making a donation to Sentara Martha Jefferson Hospital's cancer care programs. 100% of your gift will directly impact patients and families in our community. From free cancer screenings to wigs and scarves to survivorship programs, your gift will wrap patients and families in love and care throughout the cancer journey. 
Then write the name of someone you love on a pink ribbon at the Dairy Market. The ribbons will be displayed throughout Breast Cancer Awareness Month in October, as a testament to the strength and courage of all the people in our community who have walked the hard road of cancer diagnosis, treatment, and recovery.
Together, we are fighting this disease. Thank you to our friends at the Dairy Market for leading the way, and to you, for helping to care for our community.  You are truly making a difference.