Palliative care's impact on patients can't be scientifically measured like blood pressure or cholesterol levels. Rather, its effects are best related through the stories of patients who have been empowered to make their own healthcare decisions, and of the loved ones who have been relieved of some of the burdens they have carried.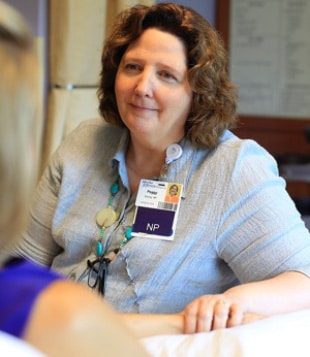 While palliative care provides relief from the symptoms and stress associated with serious and complicated illnesses, it's really so much more. "Palliative care doesn't just look at the disease process—it looks at the whole person," says Margaret "Peggy" Firer Bishop, ANP-BC, ACHPN, a nurse practitioner at Sentara Martha Jefferson Hospital. "It's a team approach that takes a holistic view. We want to understand the human being who is in the midst of this medical experience."
Often the prospect of a serious illness is overwhelming," adds Paul J. Tesoriere, MD, director of inpatient services. "Our Palliative Care team is trained to understand all aspects of the patient's condition: emotional needs, physical symptoms, and the patient's goals and expectations. Focusing on these items takes a tremendous amount of time and compassion, so it's these kinds of interactions that often get lost in the modern healthcare system. "
During a typical day, the Palliative Care team might see patients in the hospital who need help with symptom management, emotional support and treatment decisions. "We discover who patients are as individuals, what matters to them, how their loved ones are holding up and how we can best be helpful," says Bishop.
Pascale Hapgood (right) and her 2023 In the Pink tennis partner Laura Leetzow. Pascale Hapgood was still three months away from her annual mammogram when...